THIS POST MAY CONTAIN AFFILIATE LINKS FOR WHICH WE'LL RECEIVE A COMMISSION IF YOU CHOOSE TO SHOP THROUGH THE LINKS. PLEASE READ OUR DISCLOSURE FOR MORE INFO.
Finding the perfect dress is probably one of the most exciting events when it comes to planning your wedding. However, it can also become a real headache if you're not familiar with the styles, fabrics, colors, and necklines used in bridal wear. Now, don't fret over thinking that your seamstress or bridal salon will expect you to know the technical difference between a chapel veil and a mantilla veil off the top of your head -- but they will find it much easier to design your dream dress if you tell them you want an A-line.
There are hundreds of wedding dress styles out there, and most of them keep changing and evolving with the current trends. However, if you filter through them, you can easily boil it down to just five classic full-skirt styles (not including modern mini or cocktail dresses.)
1. A-line
A-line dresses feature a snug top that accentuates the waist and the bust and a flared skirt that widens towards the bottom. It's probably the most used and the most versatile style, as it can work with pretty much any neckline, veil, and train. It looks great on pear-shaped bodies, distracting the attention from the hips and bottom to the waist, décolleté, and neck. A-line dresses are also great for adding a bit of extra height, as you can easily sneak some high heels under those extra inches of fabric without it being too noticeable.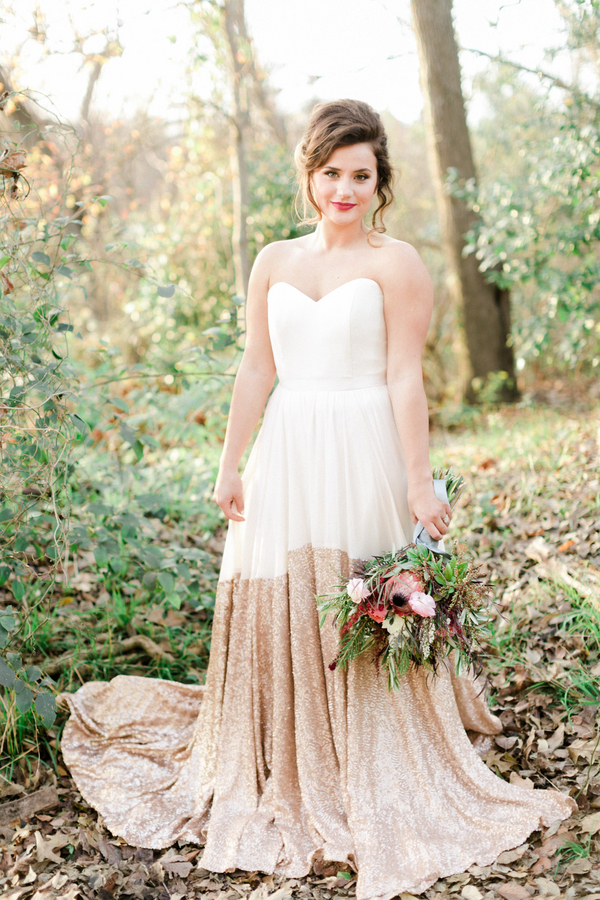 2. Ball Gown
The ball gown is what you imagine when you think of a princess's wedding dress -- a tight, probably strapless corsage, and a full, puffy skirt. Although this is a very popular silhouette and you can easily find pre-made ball gowns, they usually need quite a bit of adjustment to make them fit you like a glove. With a few fitting sessions, ball gowns can look amazing on any body shape, and will definitely make you feel like royalty on the big day.
3. Empire
The Empire, also known as Josephine, is a high-waist dress with a long, free-fitting skirt. This shape is perfect for brides who are a bit conscious about their waist or hips, as it brings all the attention towards the decollete and the neckline. Perfect for apple and rectangular body shapes, the Empire is also not as restricting as a ball gown or an A-line, allowing more freedom of movement.
4. Mermaid
The mermaid, or fishtail, is a very dramatic dress that hugs around your curves and flares out from the knees down. Needless to say, this is a very dramatic silhouette that is best pulled off by hourglass figures.
5. Column
A column dress has a slim and snug fit from the neckline to the hem. Some can have a bit of flare from the knees down, but not as much as a Mermaid. It looks great on tall, slim bodies, and it can be very versatile when it comes to necklines and textures.
This brings us to the next crucial element of any wedding dress - the neckline. You can pair any of the silhouettes above with any of the necklines listed below (some combinations might work better than others, but it's all up to you) to get the outline of your dream wedding dress.
1. Square neckline
The square neckline is a staple choice for A-line dresses, but it also looks great with the high-waisted Empire. Depending on where you draw the line (literally), it can show quite a bit of cleavage, so it's best worn by brides with a bigger bust.
2. V Neckline
You 'd think a V-neck would be the best way to show some cleavage, but it's actually quite the opposite -- V-shaped necklines help draw attention to your neck and collarbone as opposed to the bust.
3. Strapless
One of the most popular styles in the past couple of years, a strapless neckline is pretty self-explanatory. The corsage fits tight around the upper body, so it doesn't require straps and draws a lot of attention to the collarbone and decollete area. Typically paired with ball gowns.
4. Sweetheart
A variation of the strapless neckline, the Sweetheart, creates a heart shape around the bust, adding a bit of dimension and plunge.
5. Bateau
The bateau is a high rounded neckline that resembles the shape of a boat (hence the name). It's usually paired with an open back, for those brides who are looking for a dramatic retro look.
6. Off the shoulder
The off-the-shoulder style is here to stay, so it deserves its place among these classic necklines. You can pair it up with pretty much anything, from A-lines to ball gowns and even Column dresses. Great for brides with small, round shoulders.
This should be enough to get you on the right track to choosing the perfect wedding dress for your body shape. And if you're still looking for inspiration, check out the our Inspiration section to see real weddings and styled shoots featuring the most stunning wedding dresses.