THIS POST MAY CONTAIN AFFILIATE LINKS FOR WHICH WE'LL RECEIVE A COMMISSION IF YOU CHOOSE TO SHOP THROUGH THE LINKS. PLEASE READ OUR DISCLOSURE FOR MORE INFO.
Congratulations! You're engaged! And the first thing you want to do is run out with all your friends and family and shop for "the dress." Yes, the dress! Whether you've dreamed about "the dress" since you were a little girl or have just recently become inundated with all of the possibilities out there, the pressure to find the perfect dress can be intimidating. But before you set foot in a bridal shop, we urge you to take heed to the essential tips below. We promise they'll make the wedding dress shopping experience less nerve-racking!
1. A Grain of Salt
I know some of you will want to share the bridal shopping experience with as many friends and family as possible. Just remember, that multiple people results in multiple opinions. Aunt Sally loves a ballgown silhouette, your sister prefers to see you in a sexy mermaid, and your mom can't imagine anything other than allover lace. Thus, it would be best to try to minimize the size of your group to only those essential individuals. And if you can't bear to cut down the group size, remember to take all opinions with a grain of salt and stay true to your personal style.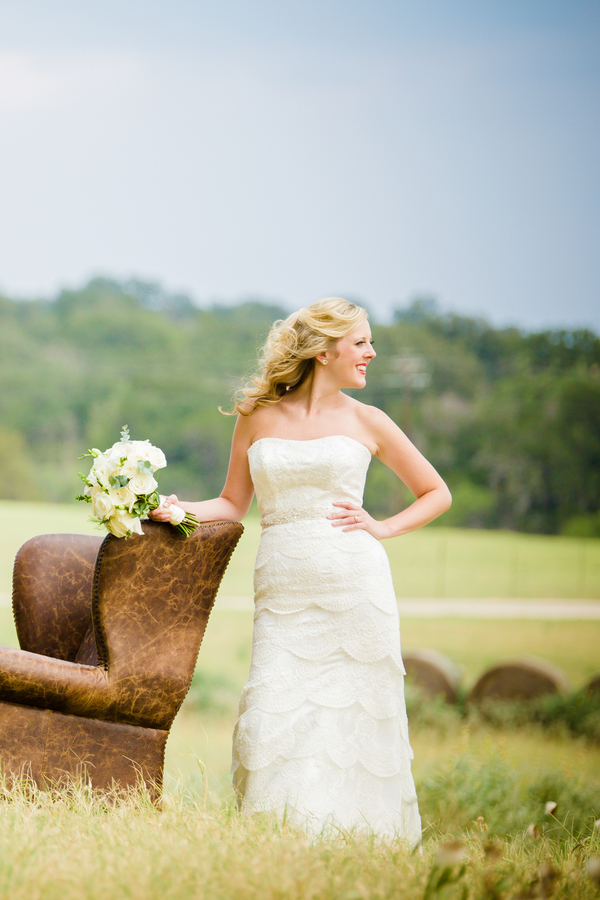 2. Beaches vs. Ballrooms
Your wedding venue will help determine both the style and the formality of your wedding dress, so it's important to know where and when you are getting married before you make an appointment. So many brides make the mistake of purchasing their bridal gown before their wedding day date, time, and location are set, only to realize too late that the beautiful ballgown they fell in love with will not go well with their beach venue.
3. Body Type
Knowing your body type will help you to narrow down the myriad of choices you'll face when shopping for a wedding dress. Have hips that you want to hide, make a bee line to the A-line section of the bridal shop. Want to show off your Jessica Rabbit curves, ask the consultant to point you in the direction of the mermaid silhouettes. If you are unsure of what style of dress (i.e., ballgown, a-line, mermaid, etc.) would look best on your body, before you go shopping, read our ultimate guide to wedding dress styles to get an idea of the silhouettes available. Then, at the bridal salon, ask the consultant to bring you a sample of each type of gown. Once you've determined which style best suits your body type, continue to try on dresses in that particular style.
4. Budget Beautiful
Determine how much you want (and can afford) to spend on your wedding dress and be realistic. You don't want to fall head over heels for a dress that is not an option. Remember that in addition to the cost of your wedding dress, you will need to pay for alterations, headpieces, shoes, and jewelry.
5. Bargain Shop
So you've determined your budget and that Vera Wang dress you've been salivating over is just not in your price range. But you just can't live without it-what's a girl to do? First, check out this budget wedding dress shopping guide that contains information on the top online sellers for purchasing deeply discounted wedding dresses. Second, check out the brick & mortar shops in your area that sell discounted wedding dress. Not sure where to start? Don't worry, I've gathered the major players across several Texas areas for you including San Antonio & Austin, Dallas/Fort Worth, and Houston. Using the right tools, a savvy shopper can score a designer wedding gown for up to 75% off of the retail price.
6. Sleep On It
Even after you think you've found your wedding gown, take a day to be absolutely sure it's the one for you. Since bridal gowns are custom-made, most salons put a no-return policy in their contracts. If you can get any money back, it probably won't be any more than 50% of the cost.
7. Open Your Mind
Finally, when you're in the bridal salon, don't eliminate anything at first glance. Even considering the advice given in tip #3, don't let the "rules" narrow your search too much. Also, listen to the suggestions of your consultant. She does this day-in and day-out, so she knows what looks good on certain body types. So if the consultant brings you something she says you must try-try it, even if you detest the way it looks on the hanger. Many a bride has ended up going ga-ga for a wedding gown the consultant had to persuade her to try on.