THIS POST MAY CONTAIN AFFILIATE LINKS FOR WHICH WE'LL RECEIVE A COMMISSION IF YOU CHOOSE TO SHOP THROUGH THE LINKS. PLEASE READ OUR DISCLOSURE FOR MORE INFO.
Yes, outdoor weddings are dreamy! From breezy beaches to botanical gardens, there is something so romantic and beautiful about letting the beauty of the outdoors be the backdrop for your special day. But an outdoor wedding is not easy to pull off-it can be a downright logistical nightmare, especially here in Texas! But if you have your heart set on a gorgeous outdoor celebration, here are some tips to help you battle the many seen and unforeseen outdoor elements.
1. Plan B.
It may never rain in southern California, but this is Texas! When planning an outdoor wedding in Texas (or anywhere in the country for that matter), you MUST have a backup plan. Between heat waves, cool fronts, hurricanes, floods, and baseball-size critters, Texas is no place to just wing it. The ideal outdoor wedding location has an indoor location waiting just in case. Many brides and grooms opt to have their ceremony outside and reception inside. In a pinch, the tables can be scooted to the back of the room during the ceremony. A tent is another option, but only for light to moderate rain storms. A heavy rain will soak the ground underneath, leaving guests with soggy and muddy shoes. Make sure any tent you rent is sturdy so it won't flip over, and that it has thick and weighted sides.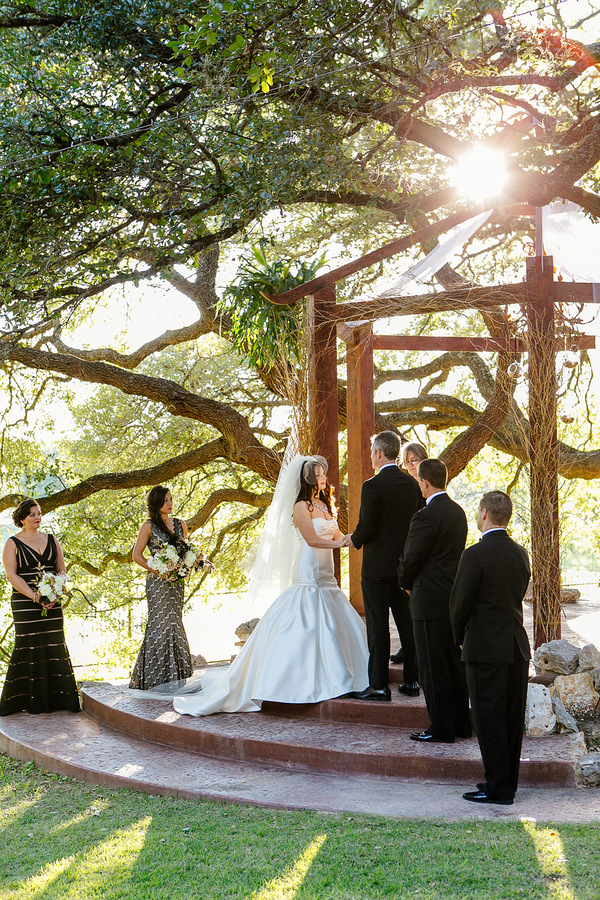 2. Time and Temperature.
When picking a wedding date, be sure to pick a date and time where the temperature does not leave your guests melting in the sun or freezing their bums off. Wedding experts say that the ideal temperature range for an outdoor wedding is 65-85 F. In Texas, the fall months of October and November and the spring months of March and April offer the most ideal temperatures for an outdoor wedding. Choose a wedding date in August at 3:00 pm and I promise no one at your wedding will be happy, including you!
Morgan Lamkin Photography
3. Too Hot to Handle.
Even with choosing an ideal time to have your outdoor wedding you have to be prepared for unseasonable weather changes. If a heat wave swoops in and threatens to ruin your outdoor wedding dreams, be prepared with the following tips:
-Have your ushers give guests ice-cold bottles of water as they are seated.
-Don't forget to have plenty of sunscreen on hand as well.
-Consider printing your wedding program on a fan so that guests may cool themselves.
-For a very warm location, look into renting large electric fans (don't forget a generator) and/or a tent to shade the sun's rays.
4. Too Cold to Hold.
In that same vein, if you a cold front cools down your red hot plans be prepared with wraps to keep your bridal party and guests warm. In addition, consider renting heat lamps so that your guests and dine and dance in comfort.
5. Gone with the Wind.
Many outdoor weddings suffer from windy conditions. Avoid windy wedding day disasters by incorporating these tips:
-Tell your hairstylist that you'll be having an outdoor wedding so she/he can plan a style that won't leave you looking like Cousin It!
-If you're wearing a veil, make sure that it is securely placed in your hair. You do not want your veil to fly off in the middle of the ceremony only to have one of your bridesmaids start running frantically to catch it. Don't laugh, I have seen it!
-If using tablecloths on your reception tables, be sure to add tiny weights to them to prevent them from blowing away in the breeze.
6. Bug Out!
Bugs at a wedding are not cool. Period. Be sure to put out citronella candles or a bug zapper so that your guests won't spend the whole ceremony swatting at the air.
7. What's the 411.
Last, but not least, please be sure to tell your wedding guests that they will be attending an outdoor wedding. Many guests will want to be coordinate their attire accordingly.