THIS POST MAY CONTAIN AFFILIATE LINKS FOR WHICH WE'LL RECEIVE A COMMISSION IF YOU CHOOSE TO SHOP THROUGH THE LINKS. PLEASE READ OUR DISCLOSURE FOR MORE INFO.
We posed 7 questions to Your Beautiful Face, a Houston-based bridal and special event make-up and hair boutique. Founder and owner, Leah Salinas, gave us some great insight into her world as a wedding hair and make-up specialist. Check out her responses below. And if you're a bride in the Houston area looking for a make-up and/or hair artist, Leah and her team at Your Beautiful Face come highly recommended (I should know, she was my make-up artist for my wedding!).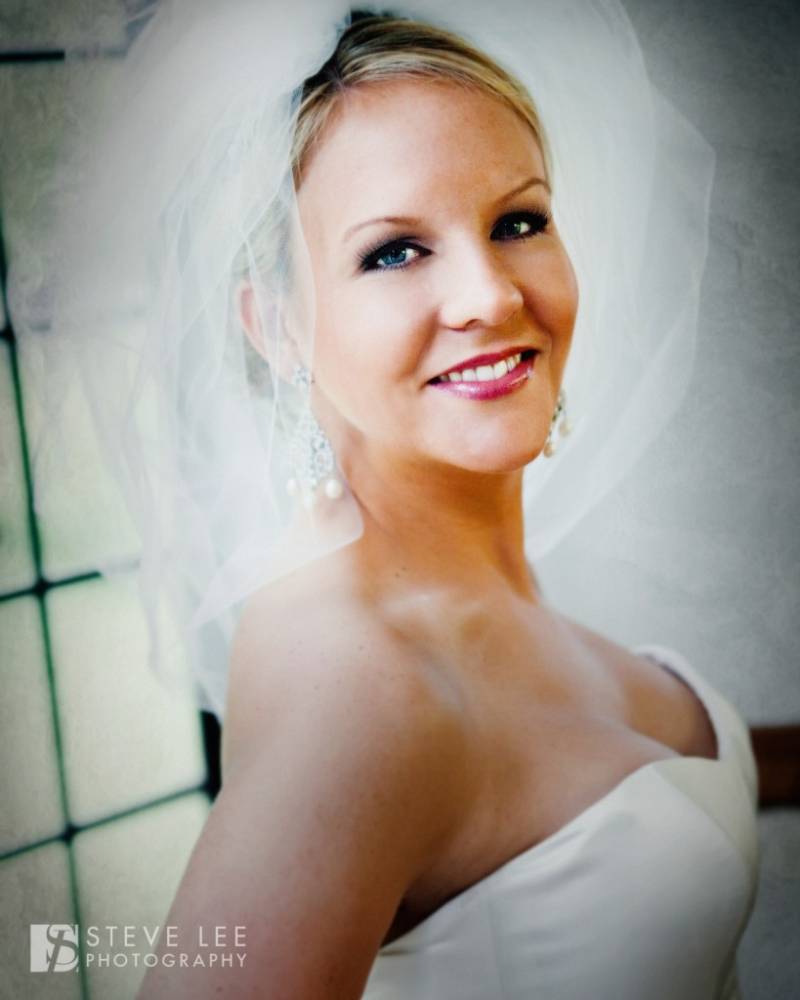 1. How long have you been in the make-up artist and hair styling industry and how did you get your start?
I started in the industry professionally 5 years ago. I got my start the way most people do, I just had a natural draw to it, enjoyed doing my own hair and makeup and started doing some friends and family. Getting my degree in art with a concentration in oil painting I feel gave me a great background in color and blending techniques. In 2004 I started selling a skin care/makeup line called BeautiControl and used that as an avenue to do meet customers and do people's makeup. When customers started wanting me to do their makeup for events and pay me for it, I decided to dive in head first and make it an official business. I focused on weddings because it is such a wonderful and fun occasion and a time a woman wants to look her best! I love doing "real" people makeup instead of crazy, exotic makeup. When I decided to do brides, I took some master classes to learn some basic hair styling techniques and took the training to be certified to do airbrush makeup and it's all history. With each client I got better and better!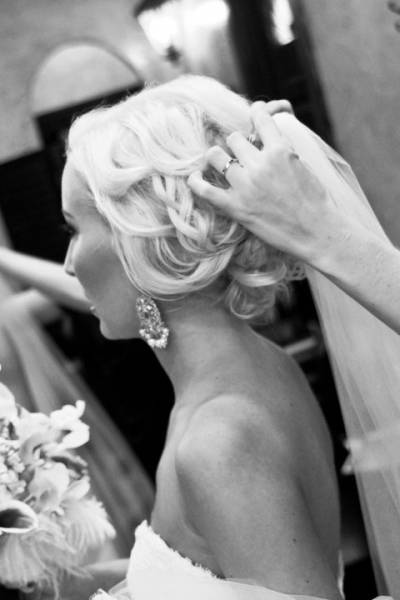 2. What is the most exciting and/or rewarding part about making up people for their wedding day?
I love it when I see the whole look come together, when the bride steps into her dress and puts on her veil, it makes everyone in the room giddy! When a woman feels good about the way she looks, it radiates through her smile and how she carries herself. If she feels beautiful, nothing can stop her!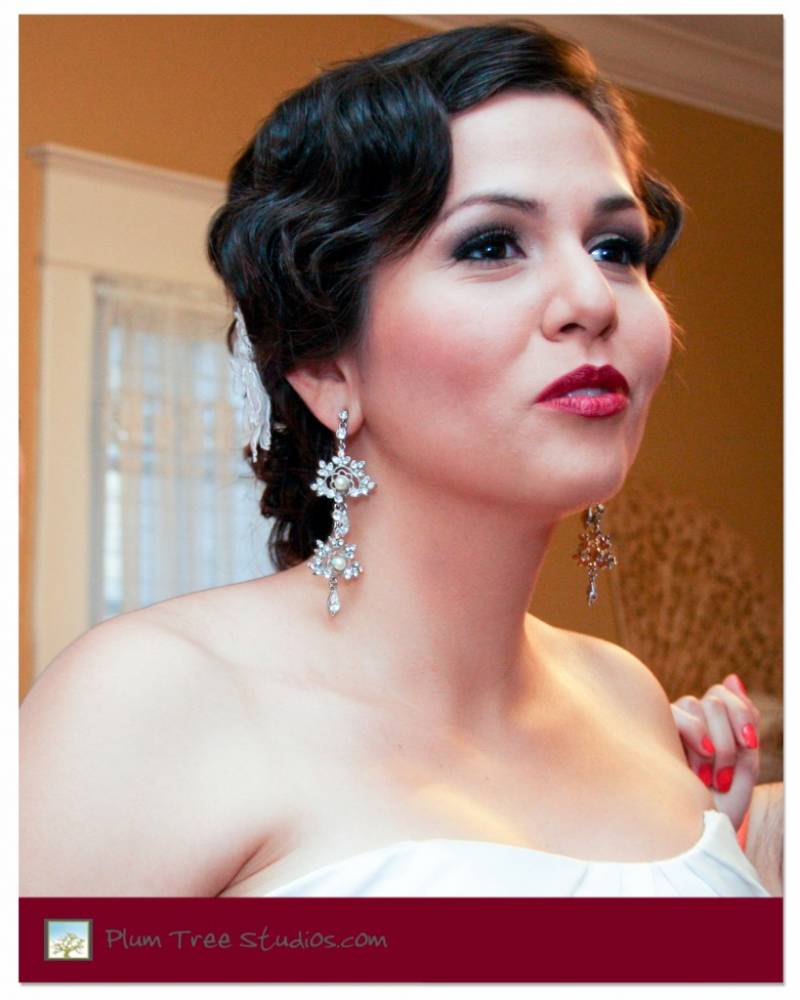 3. What is the most difficult part about making up people for their wedding day?
When some brides get really nervous, they start to second guess everything from her lip color to her limo! By the time the wedding day is there, leave it to the professionals to do what you hired them to do. Since we are there finishing up as the final preparations are made, the tension can tend to rise in the room if you aren't careful to set the stage before. We really encourage our brides to create a very relaxing atmosphere in preparation for hair and makeup. We encourage relaxing music instead of loud pop music so it sets the mood for everyone to be calm and relax. We also encourage the bride to hand her phone over to her mother or maid of honor so she won't have to be answering questions that someone else can handle for her. It's her time to take some deep breaths and prepare for a very important time in her life, not give directions to the linen company!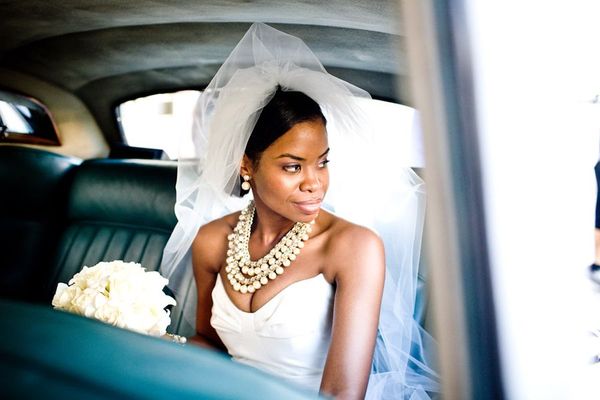 4. Do you use a specific brand of make-up and/or equipment?
A great makeup/hair artist uses what works and is not a product "snob". I do have some loyalties to BeautiControl because its been a personal favorite for so long, but since I have to be prepared for so many different types of skin, conditions, and situations, there are some lines designed for makeup artists to address these issues. My favorites from BeautiControl are their lip liners and lip glosses because they have some very "fresh" colors that are great for brides. I also love Makeup Forever because it has some of the best coverage and staying power of any line sold and I use their concealers, lipsticks (they last forever on your lips!), eye liners and makeup primers. MAC has great eyeshadows for the 40 and younger crowd and Makeup Forever's eye shadows are best for those that are concerned about signs of aging. Our airbrush equipment and makeup is from Dinair. It is great because it does not have silicone in it which some other lines have. Silicone can make makeup look heavy, even airbrush makeup, and can also cause allergic reactions on some people. Dinair's is water based which makes it great even for very sensitive skin.
5. What is the difference between airbrush and traditional make-up? What are the cons and pros of each method? Do brides request one type of method over the other?
With airbrush, you can do a heavy coverage on the part of your face that needs it and lighter coverage on areas that don't, but your face will still look evenly covered. It allows you to be very specific and blends more easily with your skin tone than a traditional product or liquid makeup. With traditional makeup, if you only put foundation on your nose, you could see with the naked eye which area of your face had extra makeup and which didn't. So with airbrush, if you have heavy acne on your cheeks, you only need heavy coverage there and could go lighter on the rest of your face. Because you don't need as much makeup using airbrush for it to give you the appearance of better coverage, it feels lighter, appears more natural, and your oil break through tends to be less. In order for traditional to last the 12-16 hours that airbrush does, it tends to have to be a very full makeup and coverage. The con of airbrush is that if you are used to wearing a lot of makeup and feeling it on your skin, it will tend to make you feel "bare" or "naked". If you are used to having heavy makeup, it becomes almost like a security blanket! You are also not a candidate for airbrush if your skin is excessively dry. You want a more liquid/moist coverage in that instance and it is usually grandmothers that fall in that category. The reason I started airbrushing was because everyone asked for it and wanted it, even if they didn't know much about it! Out of five hundred brides in a year, we may do one in that year that doesn't want airbrushing. It really works great for tears, sweat, and longevity.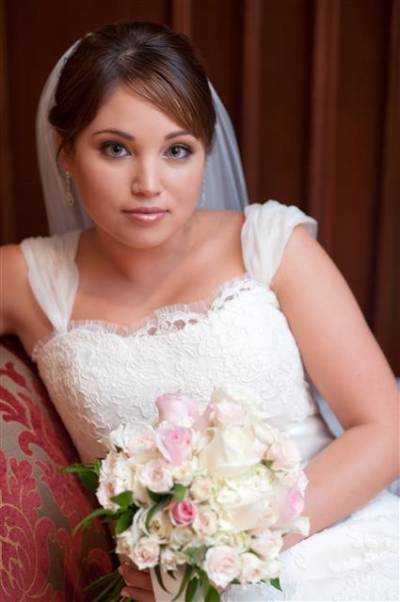 6. Are there any current trends you have seen in bridal make-up and/or bridal hairstyles?
Since the royal wedding, we are getting a lot of requests for Kate Middleton-type makeup. She looked gorgeous and really radiant with her smokey eye and pale pink lip. Our trends also go according to the weather. In Fall/Winter and early spring, brides bring us a lot of hair styles that have the hair long and mostly down with curls or waves like Kim Kardashian and Carrie Underwood. In warmer months, its a lot of chignons! Curly chignons with lots of texture are the most popular and we have seen a huge trend this last year of having the chignon to the side rather than the nape of the neck. A lot of our brides are incorporating a loose braid in their hair style to create some texture. Vintage looks have also been increasingly popular that include loose finger waves and a bolder lip color. The number one celebrity request we see is Carrie Underwood. That girl always has great hair whether its an up-do or curls.
7. When is the best time for a bride to schedule hair and make-up on her wedding day to ensure her look lasts throughout the night (or day)?
You want to be finished with hair and makeup absolutely no closer that 90 minutes before your wedding, but preferably we finish two hours before a ceremony to allow for cushion time. An hour and a half to two hours sounds like a lot of time before your wedding, however it takes at least 20 minutes to get into your dress/accessories and the photographer likes to snap pictures of that process as well. You don't want to put your shoes on minutes before you walk down the aisle. You'd feel too rushed! By finishing hair/makeup ideally 2 hours before your wedding, you will have a few moments before the ceremony starts to relax, soak it all in, and mentally prepare for the experience to come!