THIS POST MAY CONTAIN AFFILIATE LINKS FOR WHICH WE'LL RECEIVE A COMMISSION IF YOU CHOOSE TO SHOP THROUGH THE LINKS. PLEASE READ OUR DISCLOSURE FOR MORE INFO.
Ma Maison has been a favorite venue of mine ever since in came into the market a few years back. So I was thrilled when they agreed to be featured in our 7 Questions vendor spotlight series. This Dripping Springs wedding venue sits just outside of Austin and is ideal for those brides looking for a gorgeous outdoor wedding venue. With three outdoor ceremony sites to choose from, couples have a variety of options for designing their fresh air wedding celebration. But let me quit babbling on about how great this venue is--jump into the interview and get it straight from the owner's mouth. Then jump over to Ma Maison's website for even more details about this dreamy wedding venue.
1. Describe your venue (e.g., location, capacity, overall style, etc.).
Ma Maison is inspired by our strong French heritage, and our passion for providing warm, inviting Southern hospitality. French for "my house," Ma Maison is a wedding venue like no other, nestled on 23 acres in the beautiful wine country found just outside of Austin, Texas. With European inspired decor, our versatile, elegant property gives couples and families the ideal setting for impressing their guests while making them feel right at home. Our stylishly designed property is an oasis of natural beauty and exemplary customer service in an area of Texas that is often compared with Provence and Napa Valley. Featuring an array of indoor and outdoor ceremony and reception sites, we offer an ideal setting for you to experience your wedding vision come to life. Our Great Hall is a 4000 square foot grand hall with exposed wooden beams and crystal chandeliers. Private alcoves and a lovely fireplace add to the elegant, intimate ambiance, while additional space on our balcony and in our catering kitchen help us accommodate large groups of guests. To pamper our couples we offer a Bride's suite with a private garden and a Groom's den with easy access to your wedding party. Three beautiful and romantic outdoor areas are available for ceremonies and celebrations, held under shaded stately live oak trees, against our lakefront backdrop, or in our antique reclaimed French gazebo.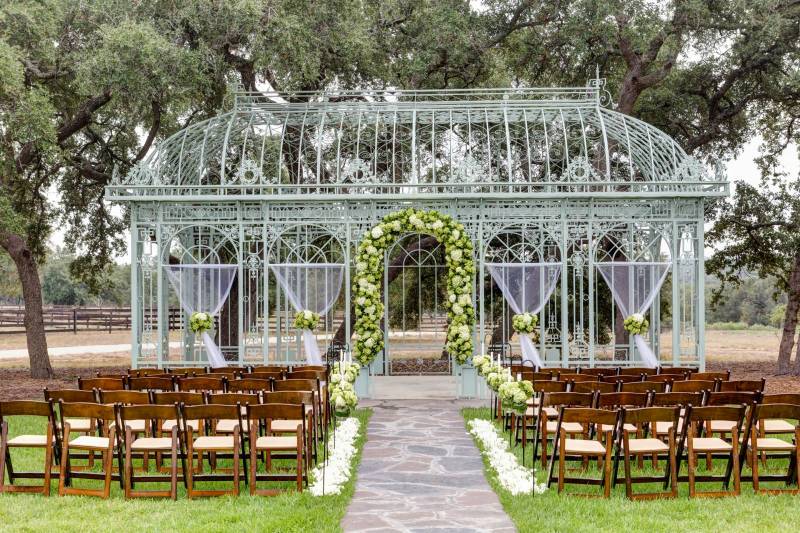 2. Does your venue offer both ceremony & reception spaces?
Ma Maison has an array of indoor and outdoor ceremony and reception sites. We offer an ideal setting for you to experience your wedding vision come to life. Our sites include: The Grove (an outdoor ceremony site), The Green Cathedral (an outdoor ceremony site), The Lake View (La Moise) (an outdoor ceremony site), The Trellis (also known as Plan B), and The Great Hall.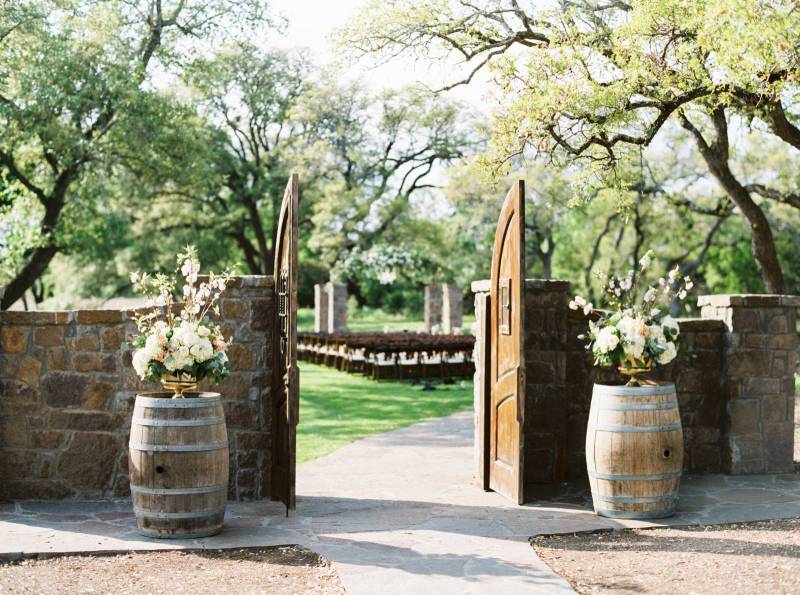 3. What special features does your venue have that make it stand out from other similarly situated venues?
Unlike many other venues, we give couples exclusivity on their wedding day. Only one wedding per day is held at Ma Maison. The bride and groom don't need to share the property with another wedding party like many other wedding venues that can have up to three weddings on the same night.
Another "special feature" that no other venue can say they have is our owner, Karen Moise. After many years of wedding planning experience, she noticed a lack of style and space when it came to wedding venues in the Austin area. No venue could hold more than 200 people and many other venues were barn-like or had a rustic style. Karen took it upon herself to create Ma Maison to fill the void she saw. Karen does all she possible can for a bride and groom when they get married at Ma Maison. She wants everyone to feel at home and at ease. The flow of the building was specific and conducive to weddings, which makes the property feel more like a home rather than a chopped up commercial property with one banquet room. Karen had many thoughts while building the property such as having all the walkways to the ceremony sites by a stone pathway so all the women in heels could walk to the ceremony sites without sinking and the bride wouldn't be dragging her dress through dirt and rocks. Little things like that help make the property feel like home. If you look at our reviews, almost every single one has a line or two of how wonderful Karen is and how easy she made the process at Ma Maison. Karen is truly one of a kind and is the heart and soul of Ma Maison.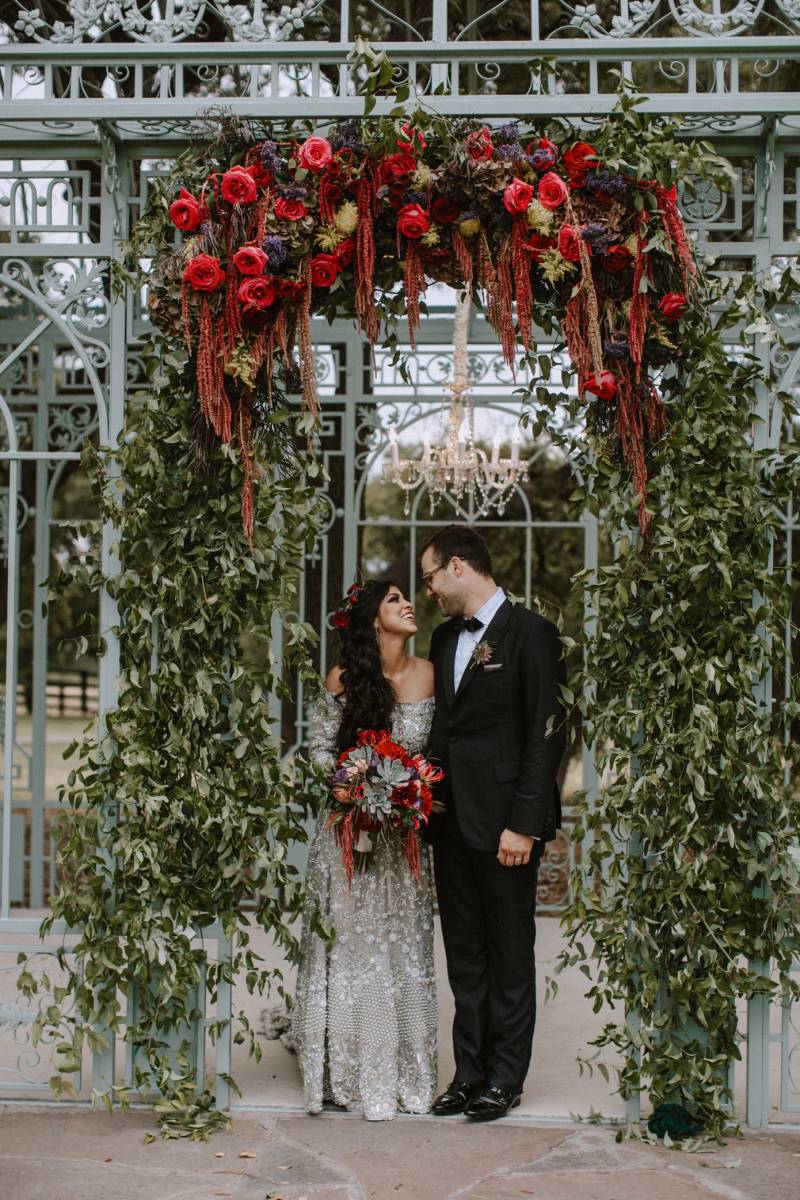 4. If your venue offers outdoor space, what do you offer as a backup plan in case of inclement weather?
We don't want rain to ruin your celebration, so you can count on us to have you covered in our beautiful rain proof Trellis at no extra cost to you. Serving as an ideal alternative space should rain affect your outdoor wedding or event, our onsite Trellis option offers you peace of mind and enough floor space for up to 400 guests.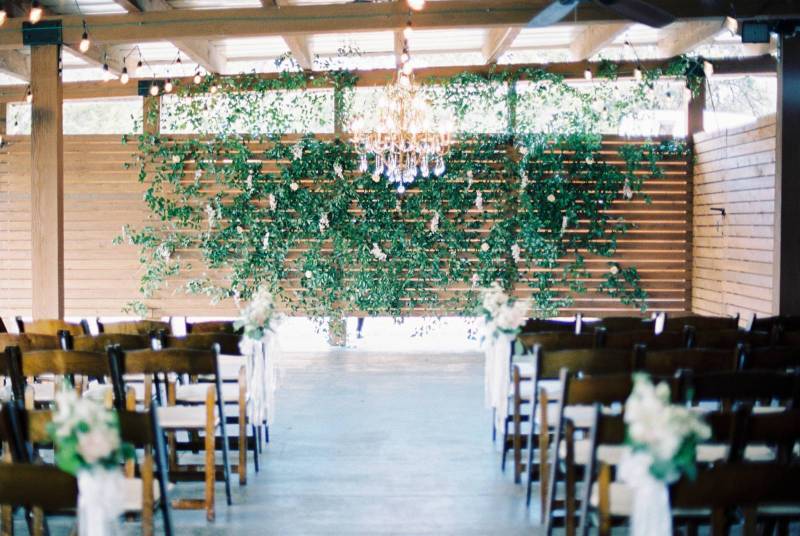 5. How can couples utilize your venue spaces to get the maximum use out of it?
When couple's book Ma Maison for their wedding, they book the entire property for a 10-hour time block, meaning they can do with the space as they would like. The best way to utilize the property is to choose one of the outdoor ceremony sites for the wedding ceremony. Once the ceremony is over, have guests head to the covered Trellis for cocktail hour. *Side note: every ceremony site can have our outside bar moved and cocktail hour can be held at any outdoor ceremony site as well.* If the bride has to use Plan B, half of the Trellis would be screened off so once the ceremony is over, the screens are removed and guests can easily transition to cocktail hour under the Trellis. Once the cocktail hour is finished, guests head to their seats into the Great Hall for dinner, dancing, and dessert! We do allow a sparkler exit so once the night is over all guests can line up with sparklers and the couple walks through the tunnel to their get-a-way-car. 300 guests can be seated inside the Great Hall. If the guest count is higher than 300 people, additional seating can be placed on the Trellis, which can seat another 300 guests. Ultimately, 600 people can be seated at The Grove ceremony site with 300 guests seated in The Great Hall and an additional 300 guests on the Trellis to accommodate a large guest count of 600 people.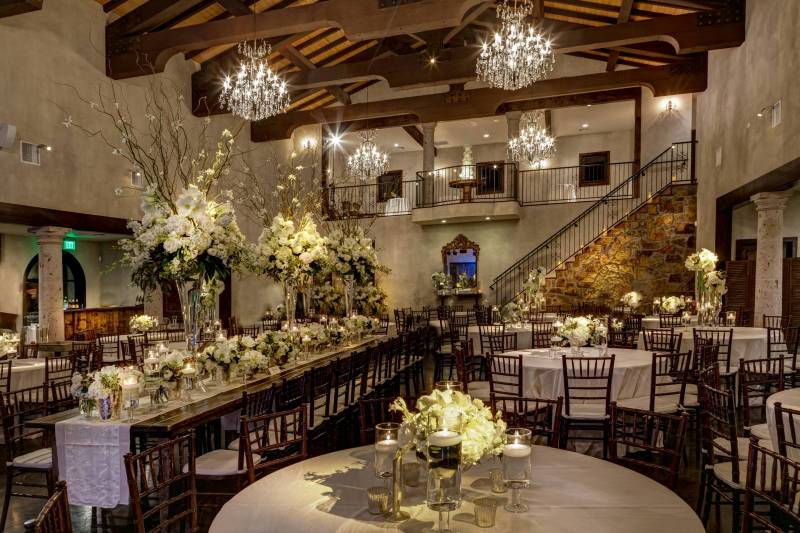 6. Does your venue offer any other wedding day services (e.g., dj/music, catering, alcohol, wedding coordinator, etc.)
Beginning in 2017, we are exclusively working with Crave Catering for all catering needs. Ma Maison does have a lighting package. The lighting package costs $1,250 and encompasses 12 pin spot lights, 12 LED uplights, as well as a light for the gobo projection to go on the wall. For an additional $50 Ma Maison can design the gobo logo or symbol for the couple as well. Ma Maison also has a rental catalog couples may go through for a few décor such as table numbers, chalkboards, cake plates, and other odds and ends.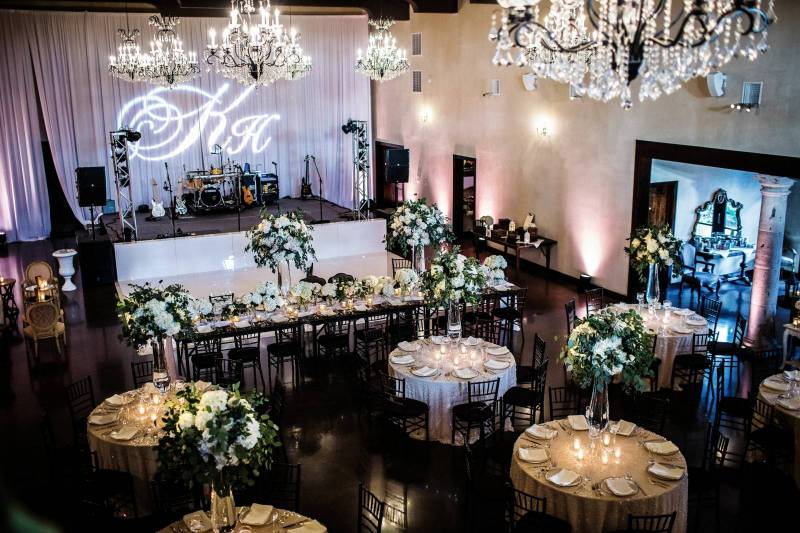 7. How have you have seen couples utilize your venue to create different décor elements or themes for their weddings?
Working for a wedding venue, it is fun to see how each bride styles her wedding and how different one wedding can be from the next. One of the most interesting weddings we had was a Christmas winter-themed wedding. Two weeks ago, for the first time Ma Maison had a bride bring in a Christmas tree for the backdrop for her photobooth. Her color scheme was deep red with black and white. The table linens were black and white striped with red napkins. The floral had plenty of greenery and pinecones. And instead of a sparkler send off, the bride had everyone hold little LED candles while ringing little jingle bells.