This Tropical themed Galveston engagement shoot submitted by Degrees North Images came up with the perfect solution for models - a couple actually getting engaged. Look below for the full story, but suffice it to say that the excited looks on the faces of the bride and groom to-be were totally real! This shoot took a simple idea - pineapples - and ran with it in a delightful way. Golds, creams, greens, and pinks are in the flowers, desserts, and table decorations. I especially love the flower crown and the adorable pineapple signs. How fun for the couple and the photographer. Check out more photos from this engagement shoot in the gallery.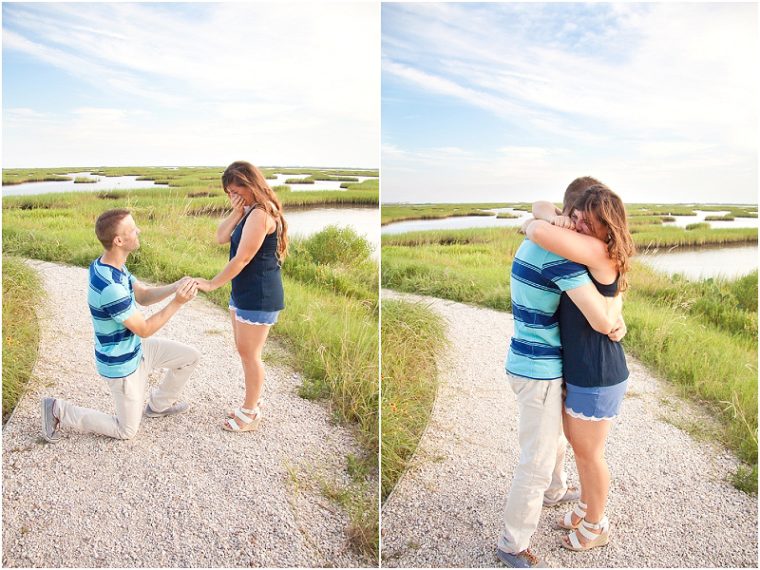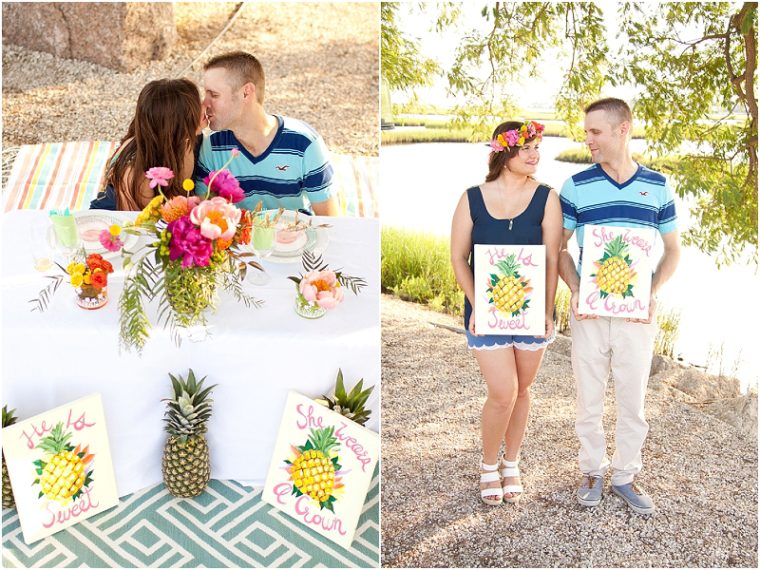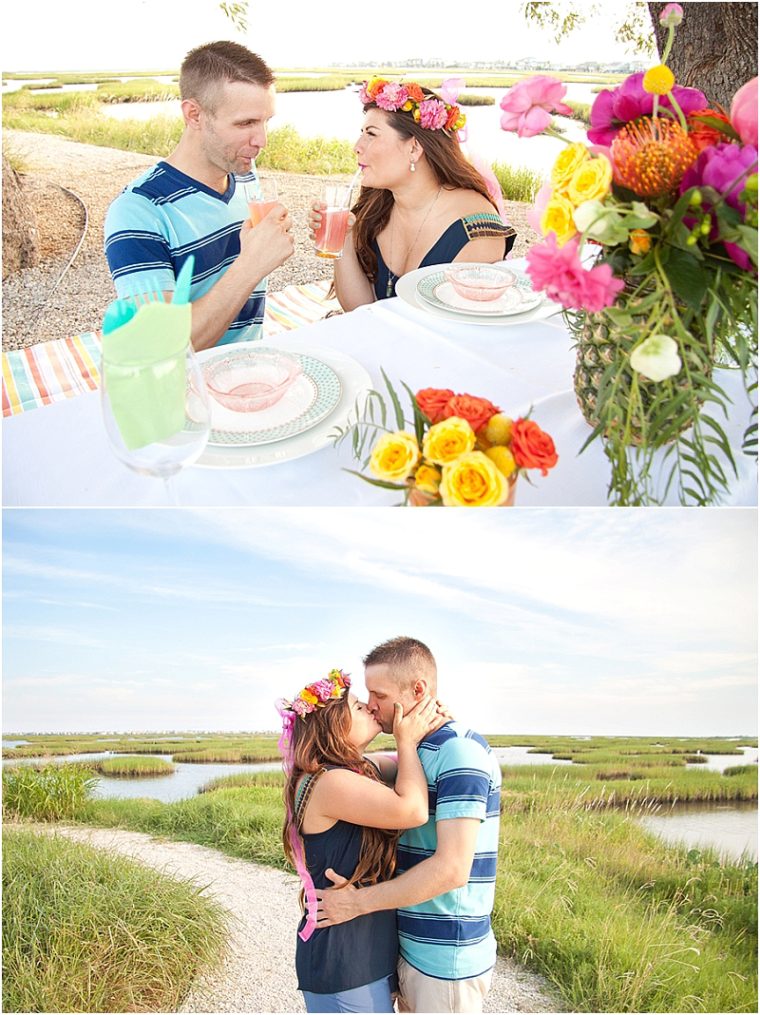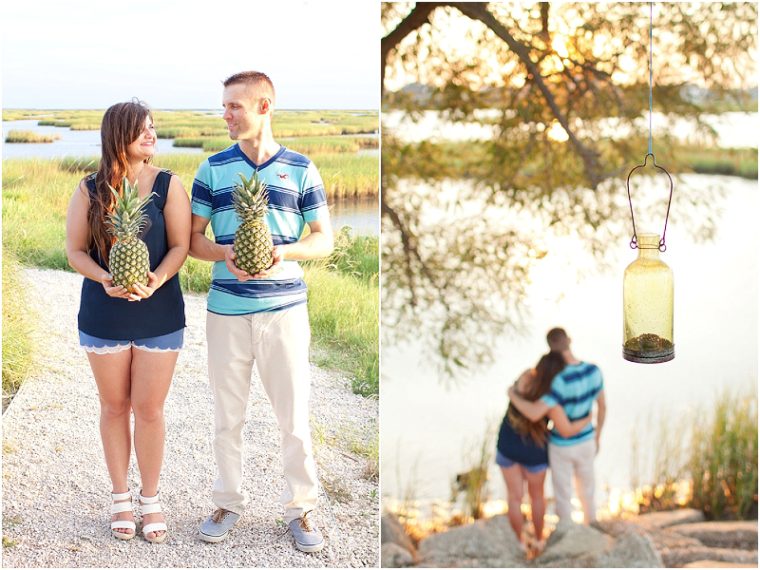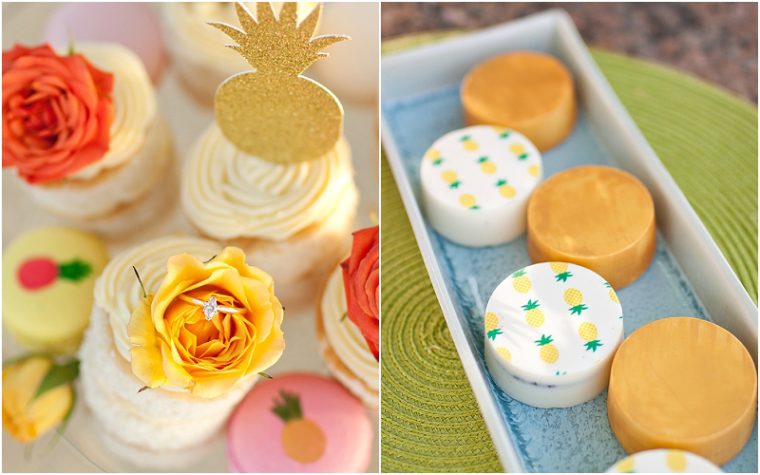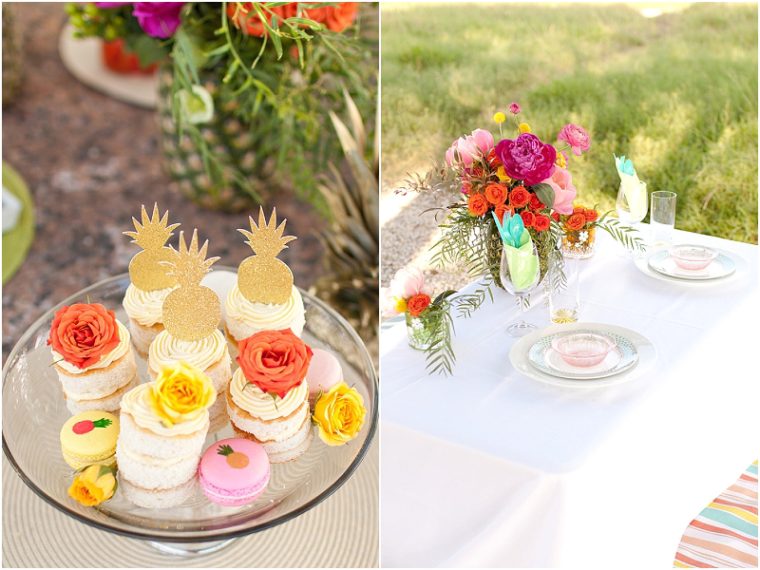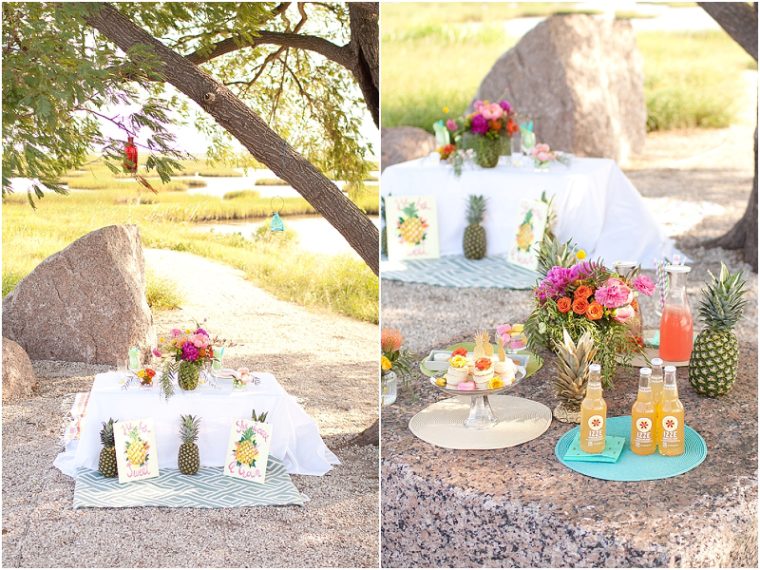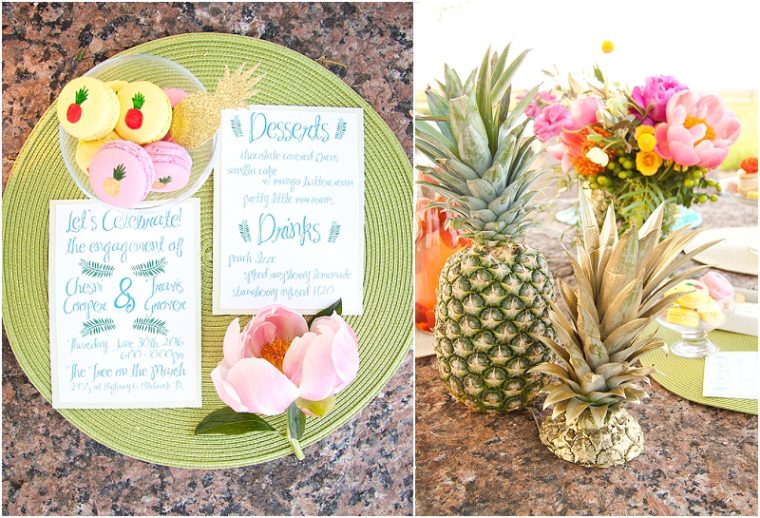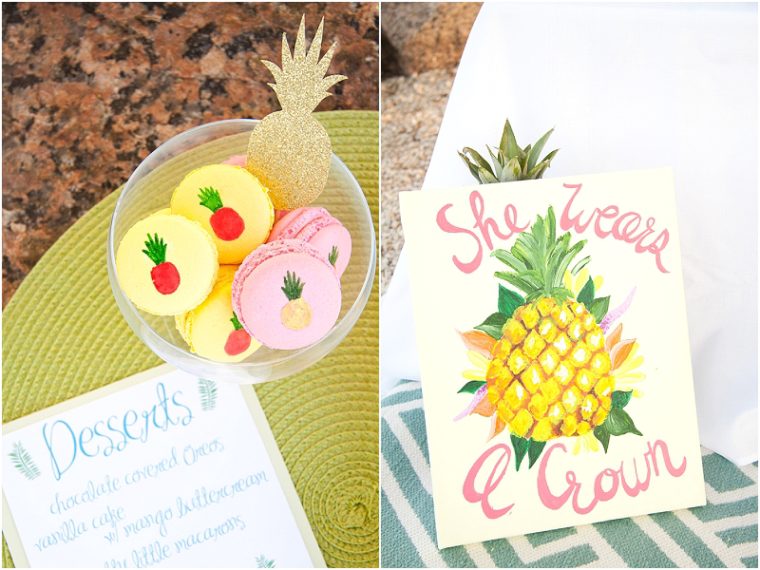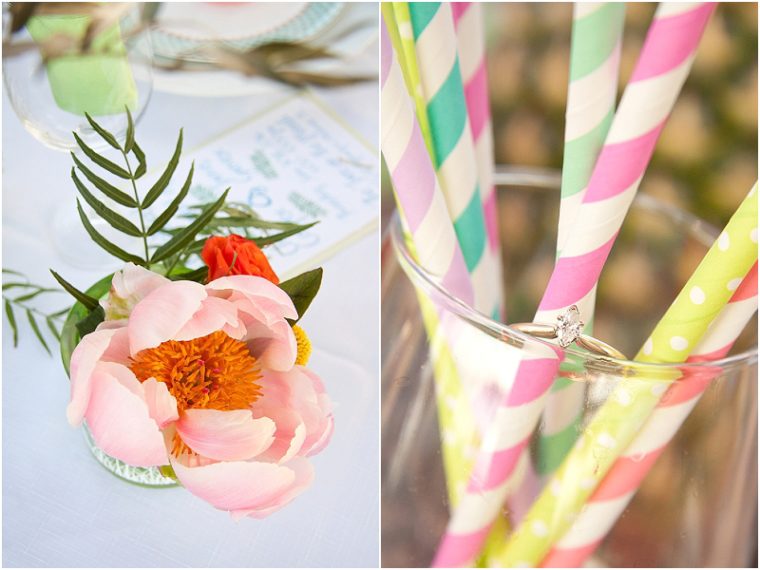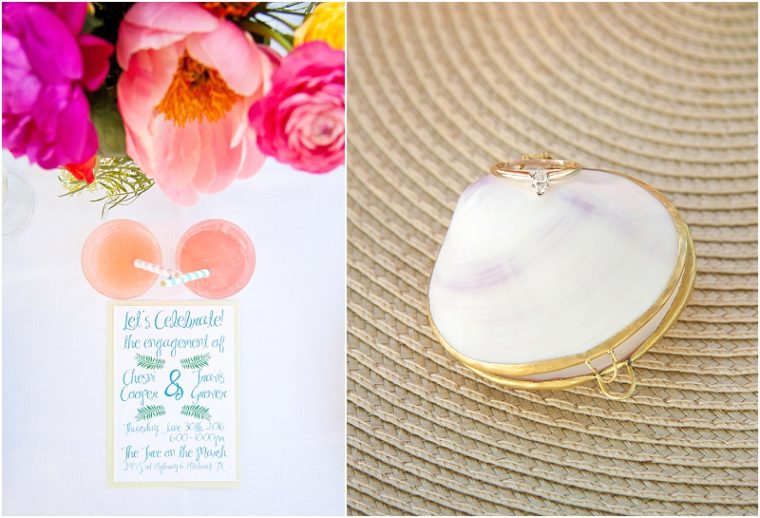 From Degrees North Images...There's a little roadside stop off I-45 on the way to Galveston. It's a little trail that leads out to a single tree, tucked in the marsh between Hitchcock and Tiki Island. It's quiet. It's peaceful. It's romantic. I've always wanted to do a photo shoot there and every time I drive by it I think I should get on planning one.
One day I sat down to catch up on some emails and saw I had a message from my friend's boyfriend. Travis had emailed me to see if it would be possible for me to convince Chesni that I needed them to model for some portfolio pictures so he could propose. Chesni is a fellow photographer and he knew she would love to have photos of that moment. I got so excited!
Since I have photographed Chesni and her family members a few times, I thought she might be a little suspicious of me just randomly asking them the model for a couple's session, so I suggested that I could plan an engagement party styled shoot and then ask her if her and Travis would do me a huge favor and be my models. I said I could tailor the theme to something she loves that fits the location. Chesni and I are both beach lovers, so I knew we could come up with something fairly easily.clue.< thing off and she never had an inkling of a clue.
I emailed him back to get some more info...like the location. He told me about the quiet little roadside stop on the way to Galveston Island that has one single tree. It was a place that they loved and making it a proposal spot would add special meaning. I got even more excited.
He said pineapples. She is really in to pineapples. Oh my gosh...me too!
While he handled his end of the deal, I got to work on the shoot. I wanted to keep it simple, yet festive. Most of the items in the shoot were purchased at Target, Marshall's or Home Goods, including the tablecloth, picnic blanket, rug, dishes, placemats, wine glasses and lanterns.
My go-to florist, Holly from Flower Vibes made us two hollowed out pineapples overflowing with bright, colorful, gorgeous blooms. She also fashioned a matching flower crown which looked adorable in photos with the his and hers pineapple signs that were specially designed and hand painted by Brittany Branson. Erica from Wink by Erica made the sweetest little macarons painted with pineapple motif, chocolate covered oreos and mini naked cakes adorned with glittery gold pineapple cake toppers.
When Chesni and Travis arrived at the location, they were so excited. Chesni gushed over all the little details. So far, so good. While Travis went to change, I chatted with Chesni who confessed to me that she was frustrated that he hadn't proposed yet. She said she knew he had the ring because it was her mother's engagement ring. She just couldn't figure out what it could be that he was waiting for!
When Travis returned, we started the shoot. Prior to the actual shoot date we had worked out a signal that would let me know that he was about to pop the question. He was going to ask me what time it was. So about an hour into our shoot the light was looking ah-maz-ing and he asked me for the time. At this point I let him guide Chesni over to the area he wanted while I randomly fiddled with my camera. She was still watching and waiting for me when he went down to his knee...and then she finally looked over!
I sent them off to have a few moments alone together to just talk and enjoy the moment while I photographed her heirloom engagement ring. When they wagement ring. When they wandered back over we did some portraits and some sunset photos to bring the evening to a close.
It was instant tears. She was so overwhelmed and so ready to say yes. I snapped away while she cried and laughed and giddily gave him her hand. After a minute she looked at me and asked if I knew. I told her the whole shoot was planned around this one little moment happening and she lost it again. She couldn't believe that we pulled this whole thing off and she never had an inkling of a clue.< thing off and she never had an inkling of a clue.