Christmas at the beach? No, it's not a dream. Here in Texas where we can have warm weather well into December so this Houston winter beach inspiration photo shoot is not a far-fetched idea. In fact, it's genius! Can you imagine a couple eloping on Christmas Day and getting married under a pier on the sandy beaches of Galveston. Well if you can, chances are it would look just like this styled session. Dawn of Degrees North Images gathered together an A-list cast of vendors and pulled off a stunning styled shoot that many would find difficult to create. The gallery contains even more winter beach goodness!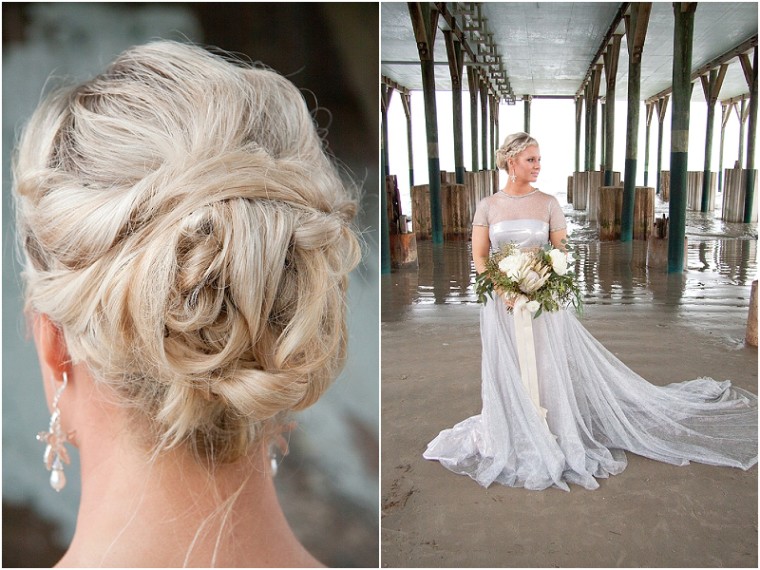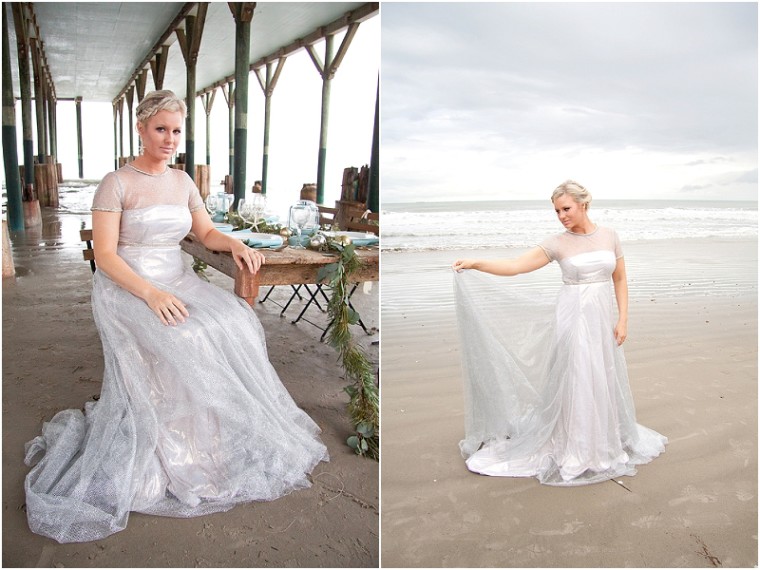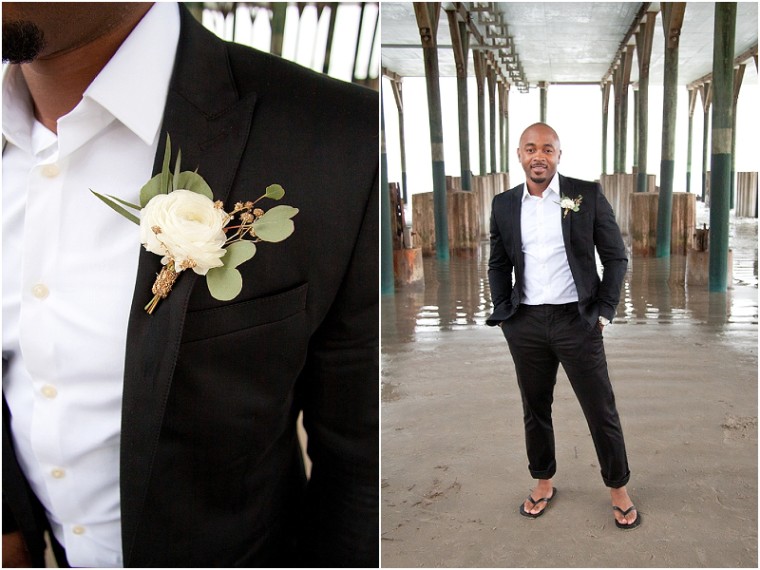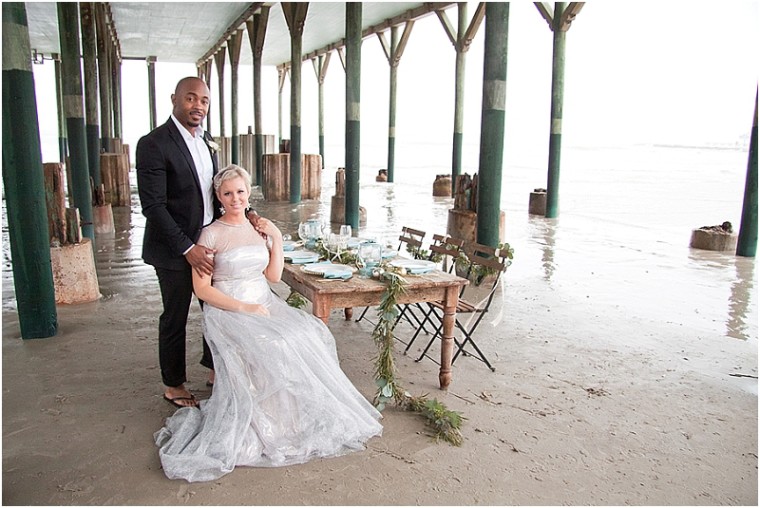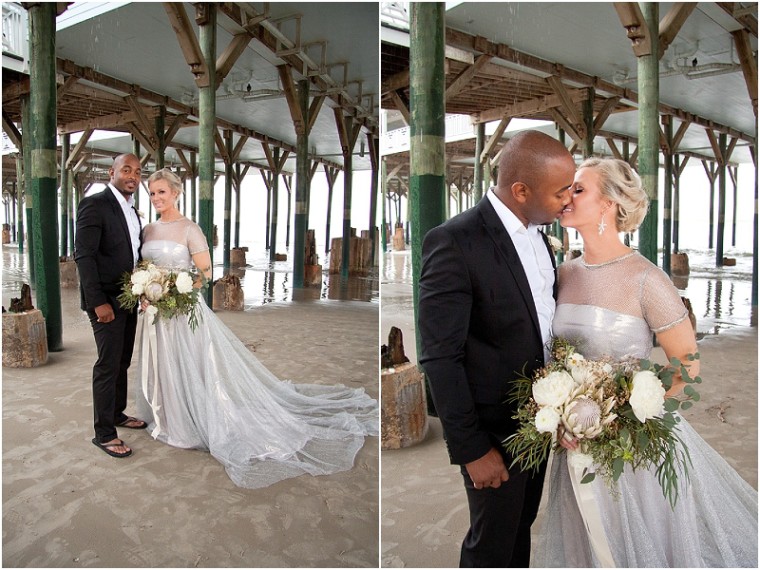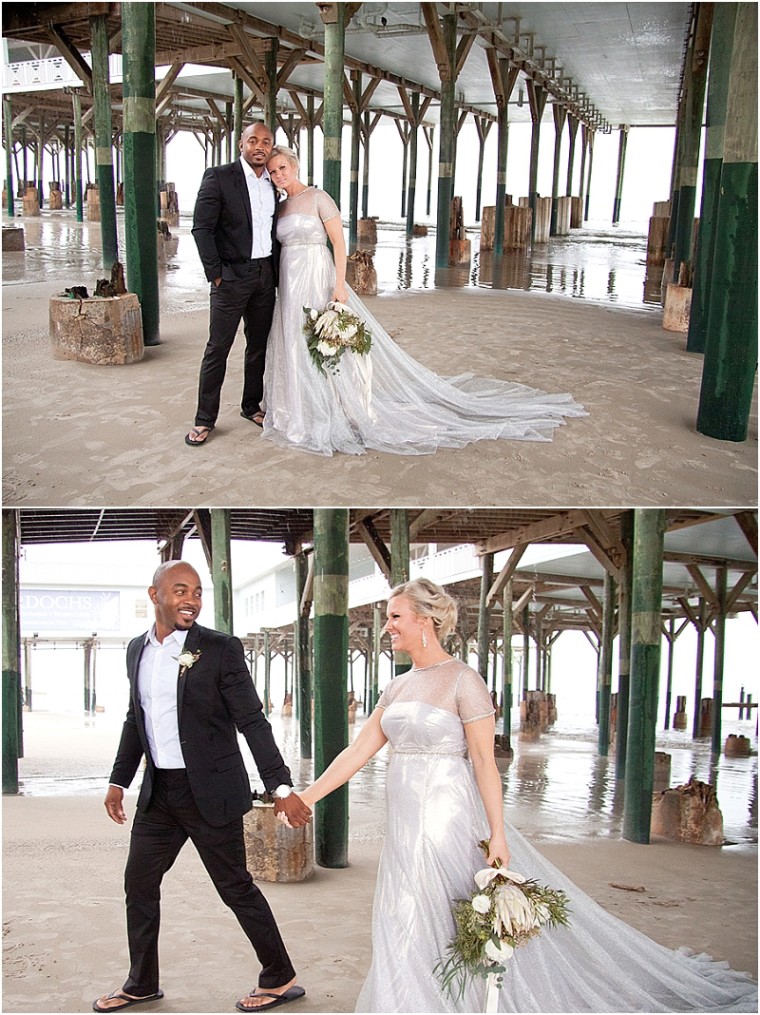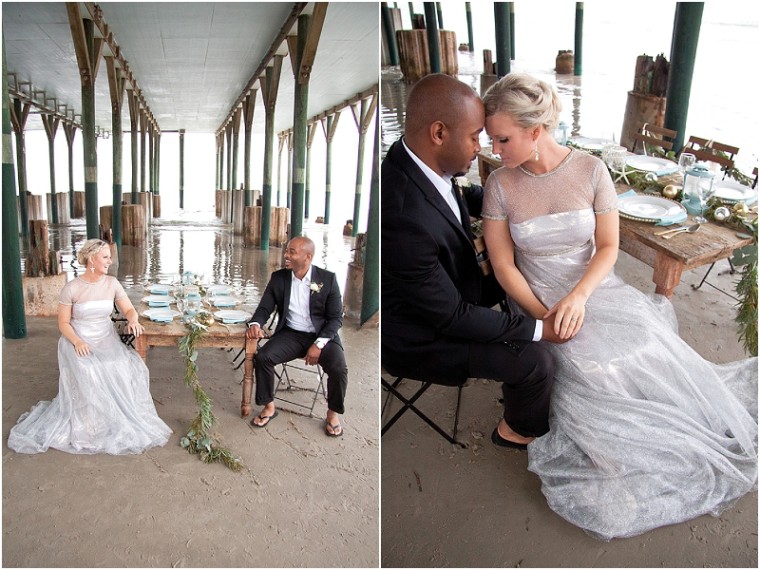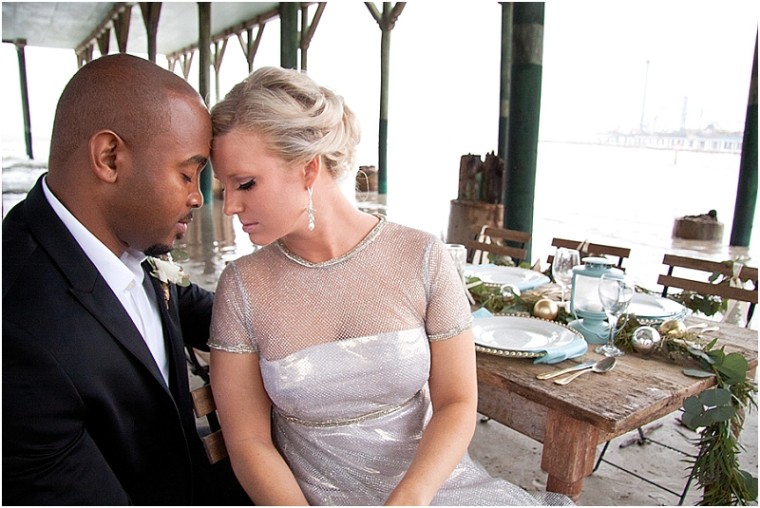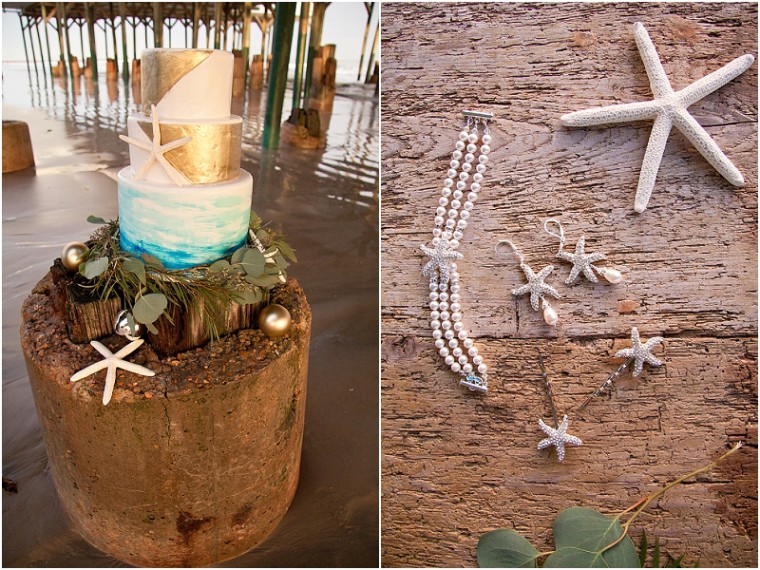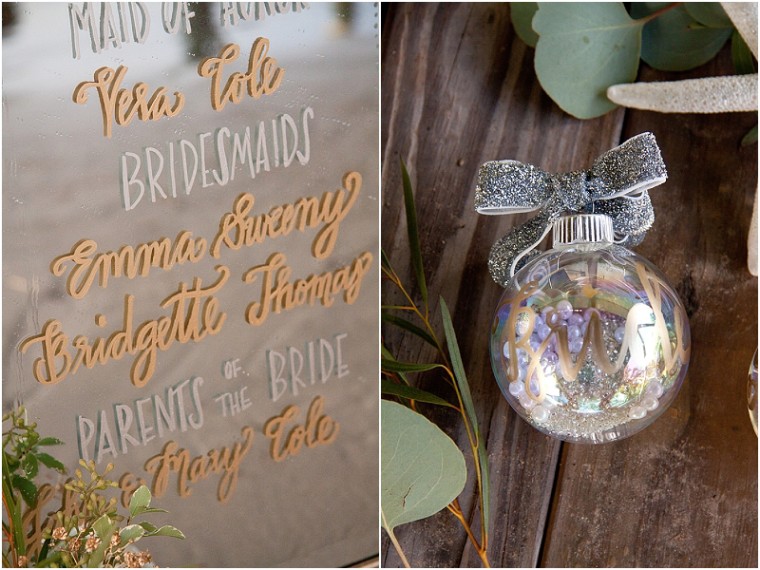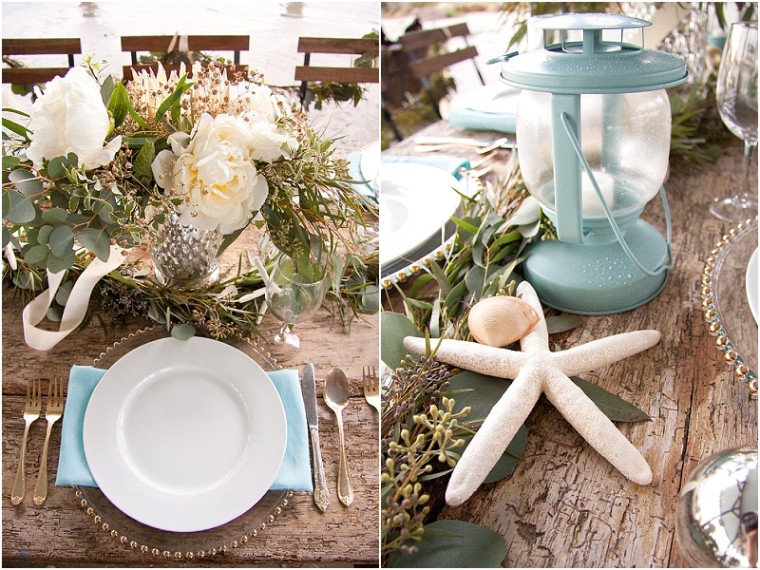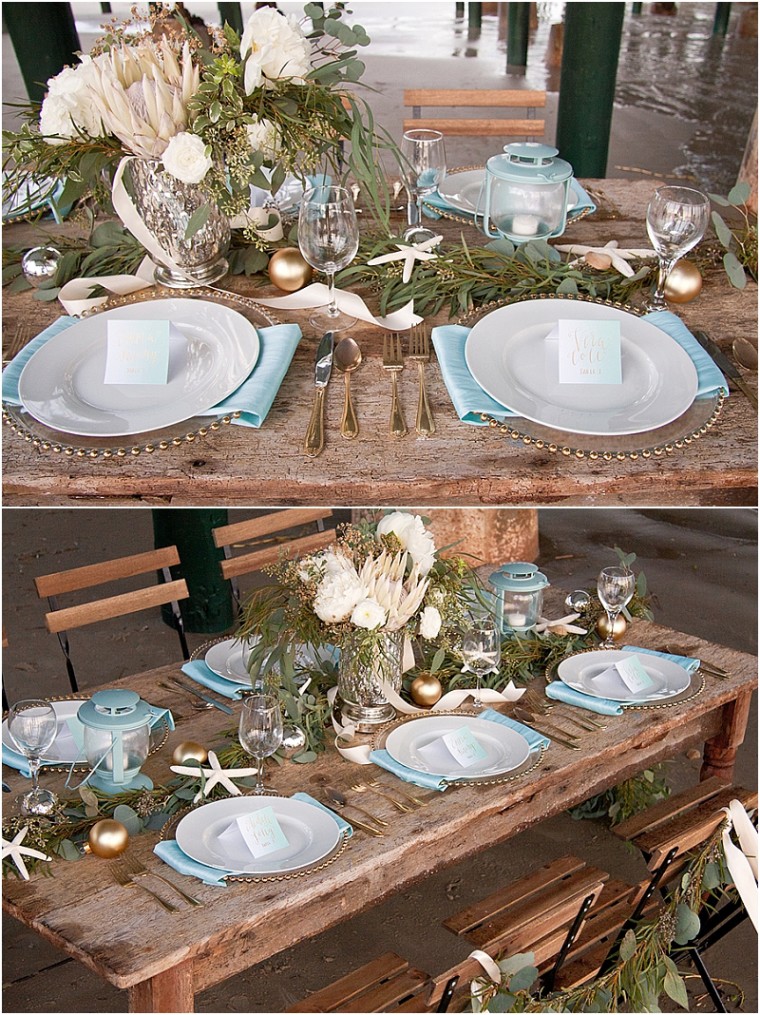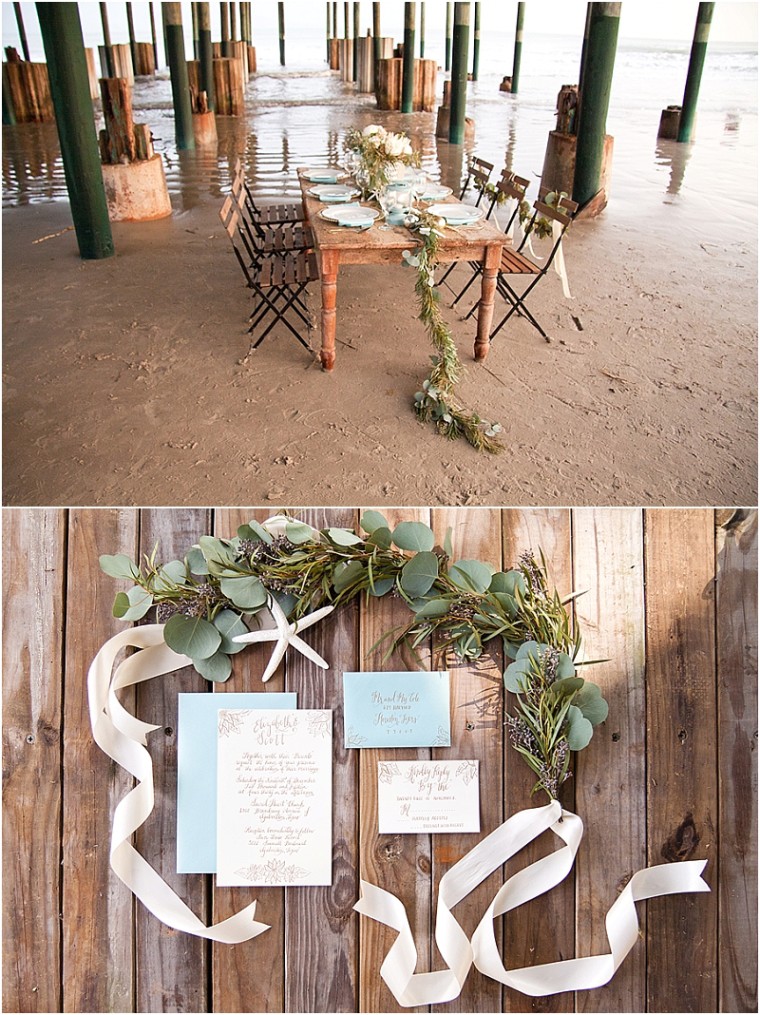 From Degrees North Images...Since we live in Texas and can host outdoor events late into the year, I wanted to take Christmas to the beach. Christmas is engagement season, but there's no reason it can't be wedding season too! Some of Houston's best wedding vendors came together to make this coastal Christmas wedding inspiration shoot possible. In our planning for this shoot, we had to make a last minute adjustment due to the weather!
I pitched my Christmas elopement on the beach idea to wedding planner Elizabeth Abshire; she not only got my vision, she made it look better than I imagined...and in the rain, no doubt! In our preliminary planning, we settled on 3 main colors of aqua/blue, silver and gold for our palette, simple greenery that would reflect the south for our table floral, white starfish to bring in a Christmas-y beach element and ornaments.
We had already had to reschedule the shoot once due to flooding rains and on our new shoot date, we found ourselves dealing with rain once again. But rather than cancel the shoot, we decided to challenge ourselves. After all, our couples can't cancel their weddings because of a little rain! We were lucky to find a pier a mile down the beach from our original planned location. We decided to set up underneath to get some shelter from the sporadic rain.
Our models Molly and Mack were champs and so excited to be a part of what was turning out to be an adventurous and unique styled shoot. I believe their words were "who does a styled shoot in the rain...no one! Let's be renegades!" When you get that kind of enthusiasm from your team, you make it happen!
Holly from Flower Vibes took just two inspiration photos I gave her and created the lavish garlands, which also smelled divine, for our table and chairs. She also crafted one of the most exquisite bouquets I've ever seen for our bride and a boutonniere for our groom.
Brittany from Rise Cupcakes made us a really unique cake that looked perfect under the structure of the pier amidst the pillars. If you look close, you can even see a rainbow in the background on some of the images, as the rain was clearing during this portion of the shoot!
Our bride's dress, provided by designer Natalie Harris of Damsel White Label, looked amazing on the beach. The silver mesh and beading details were just the right mix of modern elegance. Our bride's hair (and makeup) was beautifully crafted by Southern & Adorn' and looked absolutely perfect the whole shoot despite the rain and sea spray. And braids are always such a perfect choice for a beach event!
The Foundry Rental Co. provided us with the gorgeous weathered farm table that became the canvas for our festive tablescape. House of Hough provided the pretty aqua blue napkins which became one of our main colors, and the gold rimmed chargers which were a perfect accent to the ornaments.
Our calligrapher, Jacqueline of Lily and Rose Studio went above and beyond anything we could have imagined. She not only provided us with an entire paper suite, but a mirror with wedding party lineup and personalized ornament favors! I also have to mention my friend and fellow photographer Christine Gosch for all of her help behind the scenes.
Everyone involved in this shoot really went above and beyond. Styled shoots are quite involved in this shoot really went above and beyond. Styled shoots are quite a project. Styled shoots in the rain are a real labor of love and dedication and I would absolutely not have been able to pull it off without this amazing group!